My, oh my... this is just the type of party I needed this summer!! My first grade team is changing a lot (going from 3 teachers to 5... losing one due to a new baby, so 3/5 teachers will be new to the team!), and with that change, we're switching up our math block also! I'm SUPER PUMPED! I love reading and all, but math is what really gets me excited because I can see my firsties really start exploring and discovering truths for themselves!
Several fab blog ladies are hosting a math party all about Debbie Diller's new book on Math Work Stations, so this will be giving me all sorts of inspiration to get my tush in gear this summer!
Today's Day 1 of the party... head over to Mrs. Wills' Kindergarten to read all about it: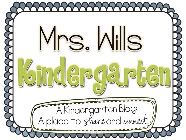 As for my own room, I have to hang my head in SHAME as I answer the following questions:
- Materials used by the teacher first, then placed in the station:
no
- Materials do not change weekly, but rather changed to reflect the students learning objectives:
Umm... I put out centers/stations when I can. But we often don't have time.
- All students go to stations daily:
Once again....no :( Only when time allows.
- Materials are differentiated:
Nope.
- The teacher observes work or meets with differentiated math groups:
When we have extra time, I'll pull back the kiddos that need reinforcement.
Now do you see that I mean?? I have SO MUCH work to do! My team is full of a bunch of rule-followers, and I am the queen of following rules. When we're given a curriculum to follow (in our case, it's Growing with Math), I follow it with fidelity. Well.... no more, I say!! I am going to teach my kiddos what they need to know in a way that helps them learn it best and put their new knowledge into practice!
So... please please please keep posting your GREAT ideas about math stations - I have lots to learn! Currently, my materials are in big tubs hidden behind curtains that only I can get to:
I am looking forward to seeing how I can best serve my little learners next year... be sure to check out the PARTY so you can add your ideas, too!! :-)