This girl is in HEAVEN! There are two amazing giveaways going on right now to two of my favorite sites for amazing graphics! Check them out:
Head over to The First Grade Sweet Life for a chance to win a Scrappin' Doodles gift certificate! (Click her button)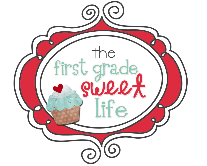 Next, head over to Oceans of First Grade Fun for a couple of chances to win some great stuff from my NEW favorite place - Just So Scrappy Too!
Alright, back to my Spring Break fun in Chicago - did you really think I'd be able to stay away from bloggie-land for an entire week? Ha - no way! :-)